Learning to paint by numbers is a process that can take time. Number painting kits will give you everything you need to get started, but it will take time to hone your skills and feel brave enough to be creative in your projects.

We have put together the best tips and tricks that will show you how to paint by numbers easily and create the courage to move from the beginner to the creative artist.
#8 Get ready
Preparation is a fundamental part of this process and spending a little time at the beginning will make you much more satisfied with the final piece, avoid the temptation to jump straight, without worry.

Discover your colors, the order in which you are working, what brushes and equipment you need and have everything in front of you and ready to use.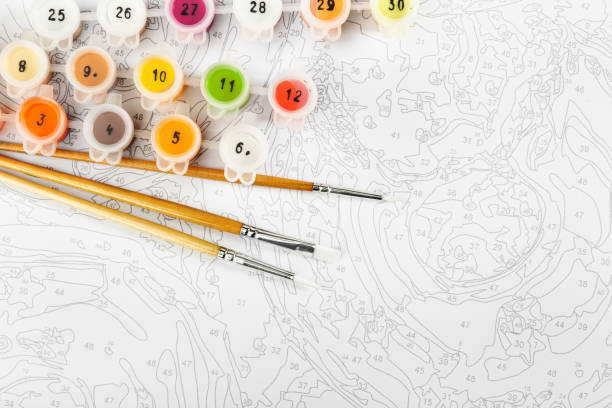 #7 Starting in descending order

Where to start painting by numbers? There are a few approaches you can take, but the easiest way is to work in descending order. You should start with the larger areas first and then work on the smaller ones, and that is for a number of reasons. Firstly, it helps you get the hang of the painting system, and secondly, it shows more of the painting as you go along and gives you an idea of how it will look.
#6 The dark first

Another interesting point that will help you figure out how to start painting by numbers is to start with the darkest colors first. This will not only make it easier to work on the painting, but it can help you discover how the light and dark colors correspond to each other and what effect they have.

This number painting technique is used by serious artists and beginners, so be sure to try it out.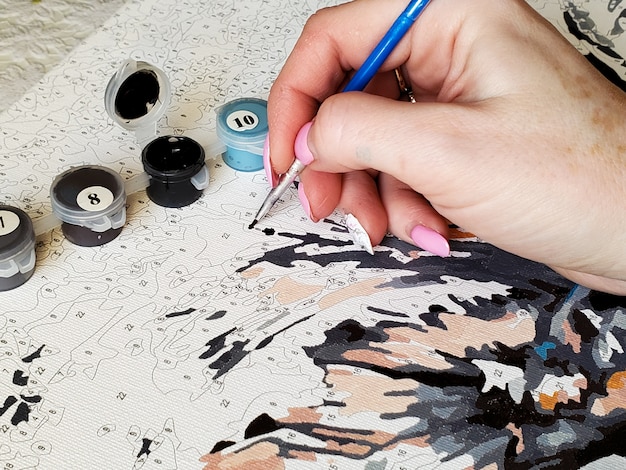 #5 Avoiding stains

Who has never touched an area while painting by numbers? Your effort can be ruined due to slight negligence. To avoid this, paint the top area of the screen first, then paint the bottom area. Due to this precaution, the chances of spotting are reduced.
#4 A Little Goes a Long Way
One of the most important paint by numbers techniques that you'll need to learn is just how much paint to put on the brush. It can be tempting to dunk the whole thing and start painting, but you'll soon learn this approach doesn't work. A paint brush requires a surprisingly small amount of paint to work so only dip the very tip in and see how much it's actually capable of covering.
#3 White pencil
Most of the time, the numbers below do not appear, but from time to time our customers say they can see the numbers through some of the lighter paintings when they are close.

This little setback is very easy to avoid, we suggest using a white pen or pencil to cover the numbers, which works perfectly!

Before you start painting a certain area, paint the number with a white pencil. Who would say? Phenomenal!
#2 Breaking the rule

One of the amazing facts of painting by numbers is the very specific instructions on how to create your own masterpiece. While they are certainly useful to follow, it does not mean that you also cannot break some rules. Don't be afraid to try colors or other brushes, because that's how we learn. You may find that what you discovered on your own turned out to be better than the recommended kit, and the final piece will have its own personal touches.
#1 The final touch
After finishing your painting by piece of numbers, you may feel that something is still missing. An important part of the final process of painting by numbers is what to do with your art when you are finished, it is crucial to take the time to learn some techniques for hanging and framing your canvas to really appreciate what you have created.

We already taught this here, to see just access here! 
Paintings by numbers available on our website by the link:
Which tip or trick surprised you the most?